Message From our Executive Chairman
Our Dream (Let's make it the same one as our Authors!)
Authors and a Publishing Company with "The same footing, the same dream"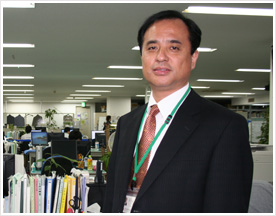 The publishing game has always been an industry where you have to wrestle your competitors to the ground. It's often not the content of the company itself but the writing of the authors and the function of selling the final product - books- that defines the essence of publishing. The simple function of agencies which make commission from circulation numbers is to trust in the business which conduct the sales.
That's to say that a publisher in and of itself is empty, it requires the cooperation of working together with the authors to realise the dream of creating and editing bestsellers and long selling books. The true power of a publisher is to take the dream of an author, make it their own and then turn it into reality. Our company may lack strength in some areas, but in an industry of 4,000 companies we rank number 167 (including publishers of magazines and books), and we are currently investigating methods by which we could break the top 100 in a few years.
In order to be "a company that takes the dreams of its authors, adopts them and makes them a reality" we know that progress must be made in our business areas of planning, editing and selling. With this in mind we humbly request the support and instruction of all of our stakeholders.
Atsushi Asada
Executive Chairman
Shuppan Bunka Sha Company ltd.